Feels nothing like your traditional pill box.
BPA-free polycarbonate
BPA-free polycarbonate means there's no harmful chemicals - be as healthy on the outside as you work to be on the inside.
Large, Easy to Fill Compartments
Top fill design makes it easy to refill the compartments quickly. Larger compartments than competitors, which means ALL of your supplements will fit, including that extra large fish oil.
Magnetic Drawers
Double magnet design keeps internal compartments in place. Toss it in your gym bag with no worries that your supplements will spill.
Sturdy and Elegant
Sleek vegan leather finish makes the Noka Box both sturdy and elegant. ...Stylish enough to leave in plain view.
PUT YOUR VITAMINS, SUPPLEMENTS, AND PILLS
IN THIS BOX
Once a Day
Nokabox Pill Organizer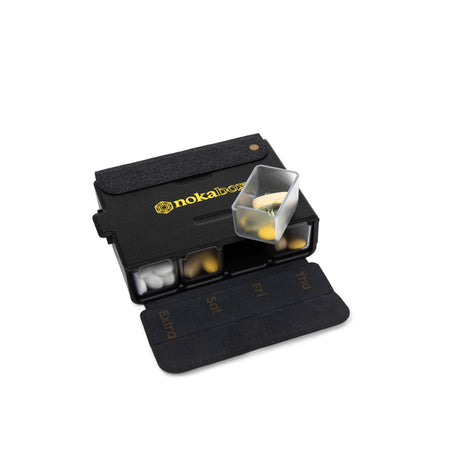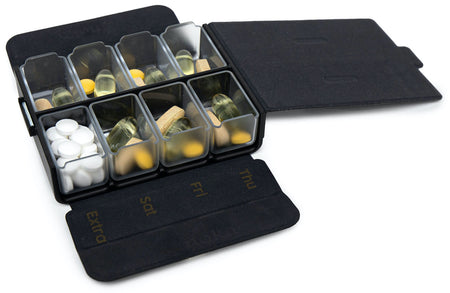 "I'm so excited to finally have a cute box to store my large vitamins."
Twice a Day
Nokabox pill organizer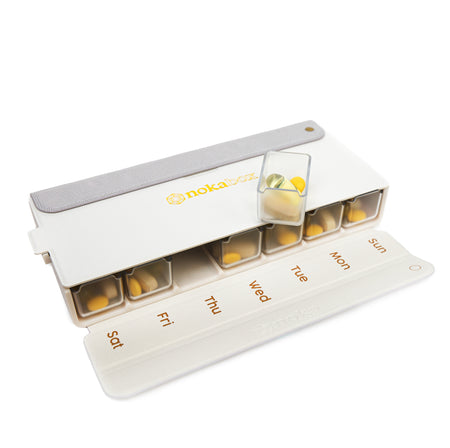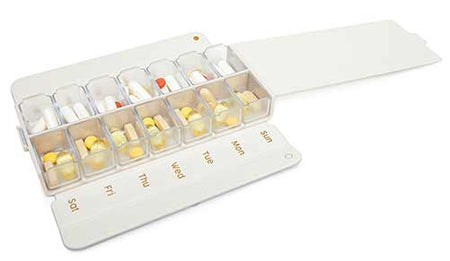 "Being able to open the lid to fill up each week is a game changer!"
The Original
Nokabox pill organizer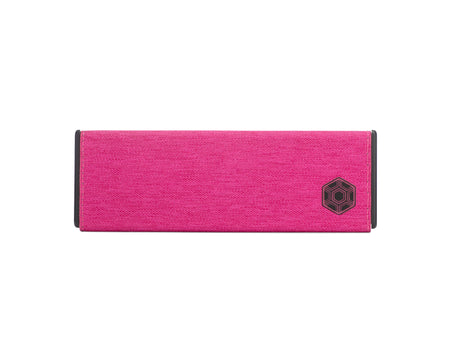 "I love how the magnetic drawers easily snap back into the box."
Stylish and functional
"I really love my Nokabox! I use it for my daily supplements and at my age I take more than a few. It's stylish enough to leave in plain view so I don't forget–great engineering and so attractive. I also love giving Nokaboxes as gifts!"
— Anne
Finally!
"It's the special attention to how it looks and how it feels that makes the nokabox totally different from any other kind of medication organizer. It's a statement that says I care about my health and I like fine accessories. I have bought several as gifts for my friends."
— Kathleen
Gorgeous and Useful
"I use this product everyday and love it. I've been taking vitamins my whole life, but never even considered buying a pillbox before - they are so bulky and ugly. With my nokabox, all my supplements are conveniently separated and stored in a gorgeous, sleek container. No longer do I need to reach into my cabinet and open multiple vitamin bottles a day. I leave it out on my desk at work or the table of a restaurant with pride that I own something so stylish.
— Sarah