Meet the Nokabox
This is the pill box for how you live today.
BPA-free polycarbonate
BPA-free polycarbonate means there's no harmful chemicals - be as healthy on the outside as you work to be on the inside.
Large, Easy to Fill Compartments
Top fill design makes it easy to refill the compartments quickly. Larger compartments than competitors, which means ALL of your supplements will fit, including that extra large fish oil.
Magnetic Drawers
Double magnet design keeps internal compartments in place. Toss it in your gym bag with no worries that your supplements will spill.
Sturdy and Elegant
Sleek vegan leather finish makes the Noka Box both sturdy and elegant.
PUT YOUR VITAMINS, SUPPLEMENTS, AND PILLS
IN THIS BOX
Whether you're on the road for work or adventure, we created the Nokabox to ensure you never miss a day of the vitamins and pills that keep you running at your best.
Stylish and functional
"I really love my Nokabox! I use it for my daily supplements and at my age I take more than a few. It's stylish enough to leave in plain view so I don't forget–great engineering and so attractive. I also love giving Nokaboxes as gifts!"
— Anne
Finally!
"It's the special attention to how it looks and how it feels that makes the nokabox totally different from any other kind of medication organizer. It's a statement that says I care about my health and I like fine accessories. I have bought several as gifts for my friends."
— Kathleen
Gorgeous and Useful
"I use this product everyday and love it. I've been taking vitamins my whole life, but never even considered buying a pillbox before - they are so bulky and ugly. With my nokabox, all my supplements are conveniently separated and stored in a gorgeous, sleek container. No longer do I need to reach into my cabinet and open multiple vitamin bottles a day. I leave it out on my desk at work or the table of a restaurant with pride that I own something so stylish.
— Sarah
Customer Reviews
01/15/2022
Benjamin C.

United States
Orders of magnitude more pleasing of a tactile experience
Taking ten different medications per day for the past decade, I avoided using one of the awful plastic snap-closed pill organizers because of the discomfort of opening and closing them, the sound they make when pills rattle in them like a cheap toy, the awful, cheap look they have, and the noise everyone has heard when they open and close. I replaced a routine of taking every dose I need directly from the bottle, opening and closing pill bottles 15-20 times per day, with a weekly filling of my two seven-day nokaboxes. This has been a huge relief, and while someone might think I should have started using a pill organizer sooner, I would not have been happy using anything less than a Nokabox. It is clear that the Nokabox was designed from the outset with ergonomics, tactile function, appearance, low noise, and most importantly dignity at the core of the designers' mission. I am so happy I found the Nokabox, and a family member who also needs many medications is enjoying their night and day box (used for two weeks of doses) very much. I have the white leather, and gave my family member a box in black leather, and I won't hesitate to chose either one of the leather options again.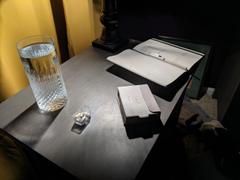 12/27/2021
Anonymous

United States
The best pillbox on the market
Literally, this pillbox is the best. I bought it as a present and the receiver couldn't be more happier.
10/24/2021
Linda R.

United States
Beautiful and Effective with a Brilliant Design
The Nokabox is so easy to use and the pill cubes are magnetically attached to the nokabox. It is a beautiful product and the best pill box I have ever seen!
08/17/2021
Anonymous

United States
Sleek, modern design!
I've only used it once so far, but definitely the most sleek and modern pill case I've ever had! Made sturdy with good materials and mechanisms! happy with this purchase thus far
07/02/2021
Stephen S.

United States
So well designed
Love the Noka box for how easy it makes it to plan the week and how much care went into making it a delightful product to use. It's clear that every material and design choice was made with ease-of-use in mind.
05/07/2021
Anonymous

United States
Best pill box
I love the compact footprint but with ample pill storage. I especially love the discreet design, you don't SEE the pills from the outside providing privacy.
04/23/2021
Akvile B.

United States
03/05/2021
Emma-Lee H.

Australia
No regrets
I have the once a day and it's the perfect size. I mostly use it for vitamins and it makes taking them easy to remember and discreet when I'm in public.
03/03/2021
Olivia B.

United States
LOVE my Nokabox!
Compact and cute, sits easily on my nightstand. Feels nothing like your traditional pillbox which I really appreciate. Huge compartments can fit all your meds and supplements. Easy to refill. Highly recommend.
02/19/2021
Kristi K.

United States
Finally a pill box that is stylish and practical!
I can't say enough now much I love this pill box. So much so, that I turned around and got my husband the black one. The compartments are big enough to hold plenty of pills & capsules.
02/17/2021
Anonymous

United States
01/11/2021
Michael W.

United States
Superior product
I was looking around for a pill container that I could carry my daily medication in and happened across Noka's pill box. This has got to be the best container I have ever used! The intelligent design is unlike anything I have ever found. By using magnets to keep the the separate pill compartments in order and also keep the flaps that cover the compartments tight I never have to worry about the box from opening. I highly recommend this well designed medication dispenser to anyone in need of a daily pill organizer! Once you see it you will really appreciate this well thought out container.
01/06/2021
Anthony A.

United States
Excellent item!
So far, been very happy with the product. I was surprised by the magnetic design for the vitamin boxes and compartments that keeps things in its place!
10/06/2020
Kristen B.

United States
So worth it
I was skeptical about spending this much on a pill box, but also got sick of my cheap plastic ones constantly breaking and/or coming open in my bag and spilling pills everywhere. This is SO well-designed, easy to fill and as a bonus it doesn't even look like a pill organizer!
10/03/2020
Anissa G.

United States
Best pillbox ever!
Absolutely love the box!! Bought both sizes and they hold all we need. Open from top to fill and open sides for each day. Magnetic so I don't worry about pills coming out when traveling!! Love them!!!
08/30/2020
Rebecca C.

United States
Only one my husband will use.
My husband refused to use the plastic pill holders that were big and bulky. So we were always having to take his pill bottles with us to travel. He likes the black discreet magnetic case and now carries his meds/vitamins with him and is sure whether or not he took them at the end of the day. This is a win.