Meet the Nokabox
This is the pill box for how you live today.
Discreet Sunday Indicators
The gold dot discretely marks Sunday so you always know which side to open—the filled circle indicates AM and the outlined circle indicates PM.
Easy to Fill
The top lid opens completely, making your weekly pill sorting a breeze!
Magnetic Drawers
Magnets hold the drawers in the open and closed position, and also come out completely to tip the pills into your hand. Our drawers are large enough for both supplements and medications.
Secure Fabric Cover
The fabric cover closes with a magnetic clasp, ensuring that your pills never end up at the bottom of your bag. The days of the week are printed on the inside so you always know which drawer to open. PUT YOUR VITAMINS, SUPPLEMENTS, AND PILLS
IN THIS BOX
Whether you're on the road for work or adventure, we created the Nokabox to ensure you never miss a day of the vitamins and pills that keep you running at your best.
Stylish and functional
"I really love my Nokabox! I use it for my daily supplements and at my age I take more than a few. It's stylish enough to leave in plain view so I don't forget–great engineering and so attractive. I also love giving Nokaboxes as gifts!"
— Anne
Finally!
"It's the special attention to how it looks and how it feels that makes the nokabox totally different from any other kind of medication organizer. It's a statement that says I care about my health and I like fine accessories. I have bought several as gifts for my friends."
— Kathleen
Gorgeous and Useful
"I use this product everyday and love it. I've been taking vitamins my whole life, but never even considered buying a pillbox before - they are so bulky and ugly. With my nokabox, all my supplements are conveniently separated and stored in a gorgeous, sleek container. No longer do I need to reach into my cabinet and open multiple vitamin bottles a day. I leave it out on my desk at work or the table of a restaurant with pride that I own something so stylish.
— Sarah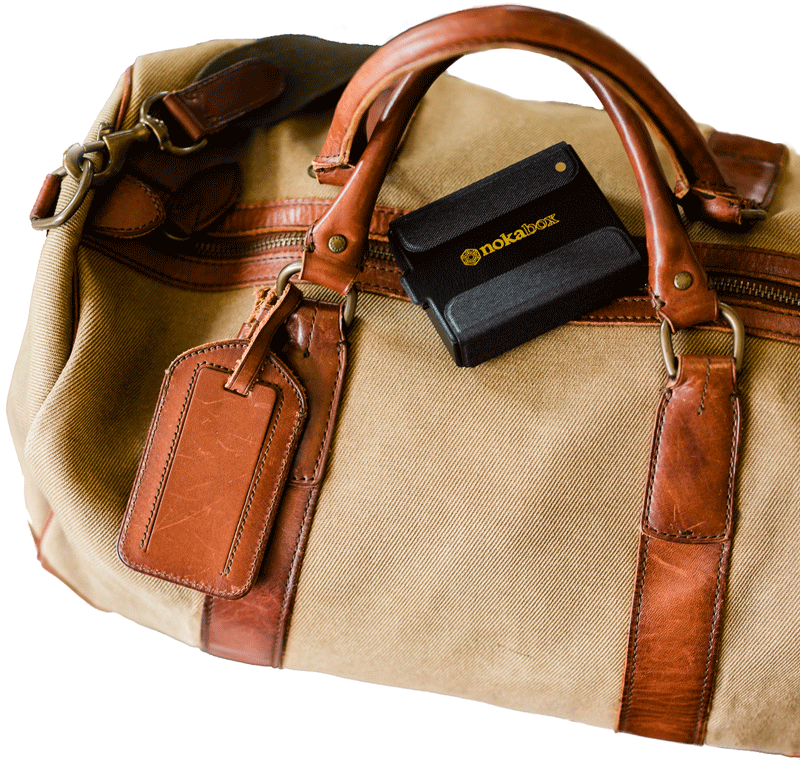 Customer Reviews
01/26/2023
Anonymous

United States
The best pillbox
I have been buying this box as a Christmas present for the last 3 years. It's the best pillbox on the market. It's thoughtfully designed, it's very good looking, and it's convenient for travels. I am thinking to buy one for myself too.
11/02/2022
Anonymous

United States
Best Pillbox Ever
This turned out to be even better than I had hoped! The daily boxes are big enough to fit all of my pills which was a nice surprise. Nice for travel too, having both morning and evening pills in one place. My husband was so impressed I had to order one for him too!
09/11/2022
Forrest C.

United States
Greatest Pill Box I've Ever Owned!!
From the clean, non-hospital looking design to the ease with which I can fill the Nokabox, this is the best product I've ever used for pills. I cannot recommend the Nokabox enough. Makes "pill fill" day a breeze!
06/18/2022
Anonymous

United States
it's the best pill box, ever!
Amazing design and attention to detail, very compact and useful, have been looking for a quality weekly pill assortment box for years! Thank you Noka!
04/17/2022
Tracy H.

United States
Love it!
Such a timesaver! And very packable. Worth the investment.
04/09/2022
Anonymous

United States
Love my Nokabox!
I really love these boxes. it is so much easier to organize daily meds and takes a lot less space on the kitchen counter than having a bunch of pill bottles scattered about. looks much nicer also. i might not use them for travel because the magnets add noticeable weight. I have 2 of the double sided Nokabox containers and 2 of the earlier style that only have one side. I can put two weeks of my meds in each of the double sided boxes, so I only have to refill them once every 4 weeks. The smaller one-sided boxes are for my dog's two daily meds. I can put two weeks of a medicine in one box and the other medicine in the second box (also 2 weeks supply). The only problem with the single-sided boxes is the days of the week are labeled with black letters on black containers, making them hard to read.
04/07/2022
Monica W.

United States
Beautiful and functional
This is the best pillbox. It's super easy to load, high quality, durable, and beautiful. Really wonderful product.
02/23/2022
Anonymous

United States
Great but very heavy
My wife and I LOVE the design of your Noka pill boxes and have bought them but won't use them as much as we had planned because the overall weight is much heavier that other options we have. We travel often and try to keep the weight of our luggage down so won't be taking these on trips with us. Thank you!
02/18/2022
Jenna B.

United States
Great product!
I have to take several medications and supplements, and this box is so pretty it doesn't make me feel like I'm 100 years old! Thank you for this stylish product! Love!
01/16/2022
Lynn S.

United States
I love this clever pillbox
My sister put this on her Christmas wish list. When I saw the online description, I put it on my wish list too! We ended up gifting each other the Nokabox. I would have given 5 stars, but 2 of the magnets fell off of the little plastic drawers. I need to glue them back on, which will be a fussy little chore.
01/03/2022
Theo D.

United States
Does the thing (and looks great too)
This sleek, unassuming, and functional box is everything I didn't know I wanted in a pill organizer. I love that Noka took something as bland and ubiquitous as the plastic pill holder and came at it from a fresh, aesthetically pleasing angle. I've only had it for about a month, but the materials seem quality and the construction seems sturdy. Looking forward to getting many years' worth of use out of the lil guy. Planning on gifting a few this year as well.
12/31/2021
Lynn S.

United States
Coolest Pillbox Ever
I saw the Nokabox pillbox on my sister's Christmas Wish List. I was so taken by it that I told her to add it to my Christmas Wish List as well! We ended up gifting each other the same pillboxes and we're both thrilled about it!!
12/29/2021
Eileen K.

United States
Absolutely love the Noka boxes!
Purchased the boxes some years back and loved the design, functionality and fashion. My vitamins have grown in size and numbers so the new design is perfect for accommodating them. Have given several as gifts and everyone loves them! Two thumbs us.
12/19/2021
Anonymous

United States
Love My Noka Box
Brilliant design keeps me on track with meds and vitamins. I love the little draws, the color, and the box design. I'll always own a Noka. Thanks for making such a perfect pillbox!
12/15/2021
Brittany M.

United States
Beautiful and Functional
I love this pill box. It's not an eyesore on my nightstand, it holds plenty of pills for AM and PM, and it's easy to fill.
12/13/2021
Donna S.

United States
My husband loves his NOKABOX.
I ordered a Nokabox for myself—I have always used a plastic pill dispenser. My husband was very interested in it and asked me lots of questions about it. The day I dropped it on the floor with no scatter of pills everywhere sold him on the NOKABOX. I ordered him a Nokabox and he loves it! Thanks for such a great product!