Meet the Nokabox
This is the pill box for how you live today.
Discreet Sunday Indicators
The gold dot discretely marks Sunday so you always know which side to open—the filled circle indicates AM and the outlined circle indicates PM.
Easy to Fill
The top lid opens completely, making your weekly pill sorting a breeze!
Magnetic Drawers
Magnets hold the drawers in the open and closed position, and also come out completely to tip the pills into your hand. Our drawers are large enough for both supplements and medications.
Secure Fabric Cover
The fabric cover closes with a magnetic clasp, ensuring that your pills never end up at the bottom of your bag. The days of the week are printed on the inside so you always know which drawer to open.
PUT YOUR VITAMINS, SUPPLEMENTS, AND PILLS
IN THIS BOX
Whether you're on the road for work or adventure, we created the Nokabox to ensure you never miss a day of the vitamins and pills that keep you running at your best.
Stylish and functional
"I really love my Nokabox! I use it for my daily supplements and at my age I take more than a few. It's stylish enough to leave in plain view so I don't forget–great engineering and so attractive. I also love giving Nokaboxes as gifts!"
— Anne
Finally!
"It's the special attention to how it looks and how it feels that makes the nokabox totally different from any other kind of medication organizer. It's a statement that says I care about my health and I like fine accessories. I have bought several as gifts for my friends."
— Kathleen
Gorgeous and Useful
"I use this product everyday and love it. I've been taking vitamins my whole life, but never even considered buying a pillbox before - they are so bulky and ugly. With my nokabox, all my supplements are conveniently separated and stored in a gorgeous, sleek container. No longer do I need to reach into my cabinet and open multiple vitamin bottles a day. I leave it out on my desk at work or the table of a restaurant with pride that I own something so stylish.
— Sarah
Customer Reviews
02/12/2021
Anonymous

United States
Great
Love the morning and night options
02/04/2021
Taline T.

United States
Chic and functional
Love my Nokabox. I'm on several different vitamins due to vitamin deficiencies and they are all quite big in size. To describe how much just one cubby holds, i can hold up to: 2 large multivitamin pills, a smaller vitamin d pill, 2 regular sized capsules of probiotics, a larger b complex pill, and a large fish oil pill, and with all this, it closes easily without any effort. I bought the 2 a day box (larger box) so that I can fit it all, as I have a few more vitamins that I take, which leaves some room left in the night cubby for smaller prescription pills. It's super functional and intuitive. The magnets are strong and they do the job, and best of all the color and the overall look is beautiful. Definitely worth the price. I hardly review products even if I like them, but when I got the email to review the nokabox, I was more than happy to because I felt that the creators have gone above and beyond with this product.
01/29/2021
Darell D.

United States
Great product with two small design flaws
I love the box, and of course use it every day. Love that it loads from the same side that it unloads. Love the individual trays. The miss is that I can't read the day markings in low light, and have to either count down the days, or look very closely or turn all the lights on. I'm old man! Give me some big, contrasting print! Next is that the whole thing won't stay "open" while I fill. The memory of the "hinges" wants it to all close up again. This is a small annoyance though. The low-contrast printing of the days is the biggie!
01/03/2021
Anonymous

United States
A Number of Magnets Not Attached
The twice-a-day box arrived with a number of magnets unattached. I have not had the time to fix it by gluing the magnets back on; seems like this defect should have been caught in quality control. The magnets are noticeably smaller than those on the once-a-day box, which is much sturdier.
Thanks so much for letting us know about your experience and we're sorry to hear about this issue. We'll work with our quality control team to further look into this. If you would like, we're happy to send you replacement drawers with secure magnets. Just let us know! And apologies again. Thank you so much for being a Noka customer!
01/01/2021
Anonymous

United States
Perfect!
After almost giving up, I found the Nokabox. Instead of needing two boxes, day and night, I now have an all in one that I'm not trying to hide in a cupboard. It will be great for travel, though I have yet to go anywhere. #2020. It also holds a few more items than stated. I have a couple very small pills like D3 and Zertec that easily fit above the max capacity. 10/10 - highly recommend!!
12/31/2020
Thomas G.

United States
Safe, secure Pillbox
My plastic 2-per day pill holder would sometimes open during transport and spill some pills but this Nokabox has a magnetic closure to securely keep the pills in place
12/29/2020
Derek H.

United States
Solid product
Great product, very well made and shipped quickly!
11/23/2020
CB
Cassandra B.

Canada
Love how secure it is!
I was tired of using a plastic pill organizer and worrying about pills falling out if I threw it in a bag to go away for the weekend. With the magnets and design of the Nokabox, I don't have to worry about that anymore! I love how easy it is to refill and the individual pill slots are spacious enough to hold all my post-transplant pills. I wish it came with cleaning instructions but that is my only (small) complaint!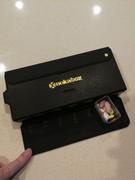 11/21/2020
Kathleen C.

United States
10/30/2020
Anonymous

United States
Best pill case ever!
I love that the little drawers are magnetized and never fall out to spill their contents. I haven't traveled with it yet, but I'm pretty sure it could bp in luggage without ziplocks and rubber bands. I think it's brilliant!
10/18/2020
Mike S.

United States
Absolute the best pill organization available.
I recently had a kidney transplant and when you leave the hospital you are given many meds to take. They even give you 3 or 4 different pill boxes to organize your meds. They were all okay...all light plastic and large. When I saw the nokabox for sale on Grommet, I thought why not try it out. Well, I'm thrilled with it. It takes up such a smaller footprints. It's waited and tight so it doesn't tip over when you are loading it. It is secure too. I cannot recommend it more highly. I'm actually ordering a second one for travel.
09/26/2020
Shawna W.

United States
I love this product!
Nothing falls out, it's easy to fill by lifting the top, the magnets keep everything in place. It couldn't be better unless it was less expensive! I'm waiting for a sale for a few more!
09/18/2020
Anonymous

Australia
the answer
i've tried something like 6 different pill boxes and this is the only sturdy one. the fact that its damn gorgoues doesnt hurt. a nice feature would be to have a lid for the pill compartments to carry individually but its small enough that carrying the whole thing around is easy. thanks!
09/04/2020
Anonymous

Canada
Great product and customer service
I have the original Nokabox and it's been so helpful in managing my medication. I got the twice-a-day Nokabox as well and it's, no surprise, great! I had a minor problem with the magnet on my box and was fine with still using it but Nokabox insisted on sending me a replacement for free! I really appreciated that and will continue to support Nokabox and recommend their product to others.
08/30/2020
Rebecca C.

United States
Just what I needed
I don't like taking my meds with me since some people are so judgmental. But being necessary, the ability to have what you need organized and in plain, magnetized case makes keeping them with you much easier and more discreet. Expensive but the sigh of relief was close to worth it.
08/28/2020
Anonymous

United States
Great for travel
I travel abroad with dozens of vitamins, placing them all in medium-sized canisters that have dividers inside. It's very convenient to then just fill one week's worth in the Noka. I also find the detachable magnetic individual containers helpful - I place one out out on counter to remind me for lunch, and one for bedside table for my evening vitamins. High quality and beautiful.